I really enjoyed the piece you had written for Jeni Houser, Beth Deutmeyer, and string quartet, so I knew whatever you wrote for me was going to be good. I had never worked with a composer on a piece from the very beginning all the way to the final product, so seeing the piece evolve from ideas into an entire work was a unique experience. I found how the ideas changed over time interesting as well. I felt working with you was very easy. You were open to ideas, altering things to better fit the instrument, and most importantly, I really enjoyed the final product. I thought it was modern, yet accessible and as a result, it was received well. I would definitely recommend other performers and ensembles to commission pieces from you.
—David Boese, cellist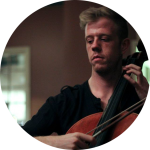 I've collaborated with Garrett two times, and both were enormously positive. I love the passion that Garrett puts into his pieces, and the care he puts into his work—he respects himself and his work, and does a great job. I love how he follows through, even being as busy as he is. And, when I see what he creates with my words, I am awestruck. I feel like we work really well together and are very respectful and challenging for each other. I learn a lot from him and gain so much from the experience of working with him—I hope to collaborate with him many times in the future. I find Garrett's professionalism a model to imitate, and work with other people as well as he works with others. Garrett has such a wide range and palette as a composer that he is uniquely qualified to write music for many different performers and ensembles. I recommend Garrett to all my contacts. He is one of the best people to collaborate with since he is so professional, nice, and considerate. When you add that to the fact that he is a great composer, you have the perfect combination for a great collaborative experience.
—Dr. Steven Soebbing, baritone, librettist, and Adjunct Instructor at Frostburg State University